YooGirls is one of the most successful clipstore sites out there. Especially well known for non-nude fetish and femdom videos.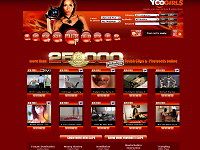 Language: Englisch
Advantages: many German clients, payment through direct debit and SOFORT possible. Low payout fees for stores
Disadvantages: No nudity/hardcore
Yoogirls is possibly the largest clipstore site after clips4sale – even considering the no nudity / no hardcore restrictions.
All of the clips are fetish related, like foot fetish, femdom, financial domination or facesitting.
The top stores are mostly German or English. The German stores also made the site very popular for German clients – which make a good base to sell German clips / stores. But a high retention is also possible for non-German stores.
As always – the more interesting and higher the quality of the videos is – the more they're sold.
Normally stores need a few weeks before the sales at Yoogirls really take off. This could be due to the affiliate program which takes some time to really push new stores.
The most sold clips are financial domination and femdom videos. Also jerk off instructions and femdom POV in general sell very well.
YooGirls pays up to 60% of the gross revenue to the stores. If a customer is referred through the affiliate program the store gets a commission of 40%. This might sound like a disadvantage at first, but in the end the affiliate program helps you reach a larger user base than you could ever reach by the promoting the store on your own.
Of course you can also sign up as an Affiliate-Webmaster if you've your own website and not only push your store's revenue, but also earn on other stores as well.
Wire transfers to Germany cost 10 Euro, 20 Euros for international transfers.
If you're outside the Netherlands the site owner pays the VAT on your earnings – so you don't have to pay VAT in your country anymore.
Specials: no nudity / hardcore allowed
This could be interesting too: All Clip Stores