KinkBomb is a store service especially targeting findom / money mistresses.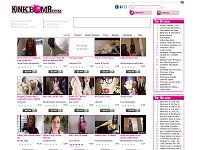 Language: Englisch
Advantages: good sales for money mistresses
Disadvantages: Bad usability for webmasters and complicated to add clips
KinkBomb's a good site for money mistresses / findom clips.
If you don't have English clips it's harder to earn on this site – but it makes sense to sign up and try anyway.
Unfortunately the store admin panel isn't really easy to use, but after some time you'll find your way through it.
All of the top stores are dominant girls, most of them financial dominatrices / money mistresses and especially these kind of clips sell good on Kinkbomb.
Femdom clips are a close call, but usually don't sell as much as findom clips.
KinkBomb pays 60% of the gross revenue to the stores.
Payouts by Paypal are also possible for only 2$ fee. For international wire transfers the fee is a whopping 60$ – so it makes sense to set a high minimum payout if you don't have a Paypal account to not lose too much % for the transfer.
Specials: no hypnosis clips allowed, no fisting, no peeing
This could be interesting too: All Clip Stores