Clips4Sale – This is one of the biggest store sites out there.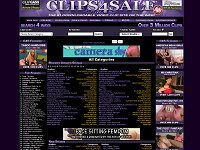 Language: English
Advantages: a lot of users, big and lucrative sells possible
Disadvantages: a lot of competition
On Clips4Sale you can find nearly every famous clip store and lots of small stores as well.
Almost the entire top 50 stores are English stores but also stores with clips in another language can get a lot of sales.
Of course one of the most relevant point is the quantity and quality of your clips.
Depending on our experience femdom videos are selling best, followed by dominant solo ladies and foot girls. Also hardcore videos are selling good – especially if they've some kind of fetish twist.
Clips4Sale's payout is 60% of the store's sales. The amount is showed in dollars. Clips4Sale charges $45 for an international wire transfer. Depending on your bank additional costs for receiving wires may apply. So it is best to choose a high minimum payout value to save additional cash.
Specials: Fisting is not allowed, peeing on other people isn't allowed too but solo peeing clips are allowed
This could be interesting too: All Clip Stores